Can you imagine overhauling your identity and changing yourself completely as a person for the love of your idol?
No, we can't. But Kyleigh Potts isn't like us.
Unlike us, Potts believes in expressing her love and admiration for the person she admires the most in her life—Kylie Jenner—by transforming herself from a man to a woman to look exactly like her idol.
Red Velvet Holiday Lip Kit is officially available on https://t.co/bDaiohhXCV 💋 pic.twitter.com/bV8IYhiw3C

— Kylie Jenner (@KylieJenner) November 22, 2017
"Kylie Jenner has always been my ultimate goal and inspiration, I feel like I have always emulated her and like her, I didn't start out beautiful, I built myself beautiful," Potts was quoted as saying by Daily Mail.
Thus, it wouldn't be wrong to say that Potts, 23, is obsessed with the makeup mogul and now new mum. In fact, Potts admitted to her resolution of manifesting everything about Kylie Jenner in her life and has spent more than £50K/$75k to transform into Kylie.
Baby Chanel pic.twitter.com/DkuspFLaOR

— Kyleigh Potts (@kylepotts4) February 28, 2017
Except, changing his male genitalia. "Kylie Jenner for me sat in the shadows of the Kardashian family for years and was the 'ugly duckling', she hadn't discovered herself or the woman she was — I empathize with her a lot," Potts explained.
The journey to become Kylie
Potts, who hails from Denver, Colorado truly began admiring Kylie from the moment Kylie opened up about her personal insecurities where she felt like an 'outcast' and 'ugly duckling' who didn't fit in.
After seeing Kylie's transformation, Potts was inspired to take the plunge and metamorphosize into the woman she always dreamt herself to be like.
View image on Twitter
View image on Twitter
Kylie Jenner
@KylieJDaiIy
So hot!
03:22 – 4 Feb 2018
181
22 people are talking about this
Twitter Ads information and privacy
"I have spent the last four years perfecting my transition into the beautiful woman I always knew I was," Potts, an aspiring aesthetics injector, was quoted as saying by The Mirror.

Kyleigh has undergone over 40 procedures, with three sessions every three months only to fill her lips. (Instagram)
So hot! pic.twitter.com/zeUM8zJbMY

— Kylie Jenner (@KylieJDaiIy) February 3, 2018
Potts began her Kylie-esque transformation with lip-fillers three-years-ago and till date, has undergone over 40 procedures, with three sessions every three months to keep her lips supple à la Kylie style.
"When I saw her come into herself and transform from the ugly duckling to the b**** everybody wants to be – every girl wants to be her, and every guy wants to sleep with her, I resonated with that," Potts explained.
makeupbyariel via Instagram: "Congrats Princess!!💞 i love you endlessly I can't wait to meet your little Angel👶🏻 she's so lucky to have such an Incredible Mommy! 💞 #kyliejenner #blessings" pic.twitter.com/TtIscO3SAN

— Kylie Jenner News (@KylieJennrsNews) February 4, 2018
"I always thought I was unattractive, ugly and never enough through the trauma of being bullied that I found confidence through altering myself," Potts added further.
Three months ago, Potts followed up her lip modification with hormone-grown cup breasts into 34DDD size breasts.
She also underwent a rhinoplasty and septoplasty procedure to alter the shape of her nose and realign the nostrils, along with a chin implant to give her more defined cheekbones and her 650CC breast implants.
"I found Dolly Parton's plastic surgeon, because I wanted the biggest breasts possible, to feminise my face by making my chin more rounded and alter my nose to look like Kylie's," Potts divulged.
Hey! pic.twitter.com/EoqYZ2fsmR

— Kylie Jenner (@KylieJDaiIy) February 5, 2018
"I turned to dermal fillers in attempts to make everything better, I spent my first two years doing that extensively to the point where my lips were huge. Then I wanted to change my appearance, I felt like a man but who I was on the inside didn't match my physical appearance and how I appear to everyone else," Potts said.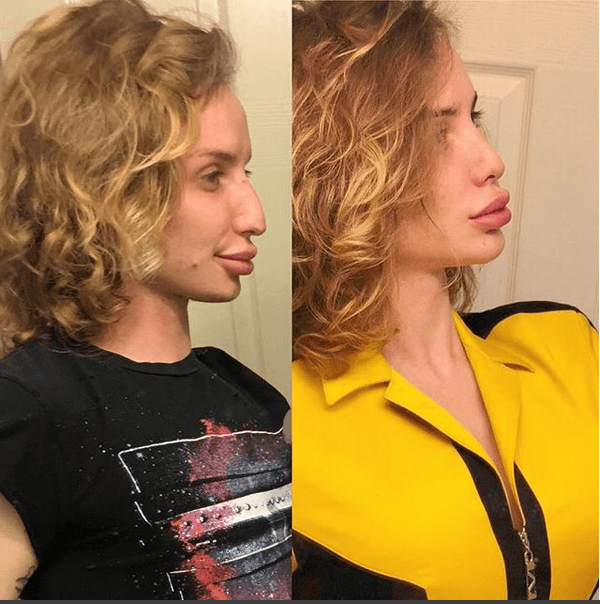 Kyleigh's before and after transformation. (Instagram)
She said: "My facial structure is very similar to Kylie's, when I had my recent surgeries they asked me to bring in pictures of my inspiration and desired look, every image was of Kylie Jenner."
From the age of eight, Potts was always drawn to plastic surgery that she watched on TV shows. She further explained how she never fit in as a child and always dreamt of changing her body.
In fact, like Kylie, Potts too was bullied for being different at school and modifications, in her opinion was the solution to cease the bullying she was subjected to.
Tokyo Stylez via Instagram: "memorable moments of 2017 @KylieJenner #touchedbytokyo #tokyostylez #kyliejenner" (2) pic.twitter.com/GBsjENJQRF

— Kylie Jenner News (@KylieJennrsNews) January 1, 2018
"I was bullied for being different, I was always around women and when I tried to branch out and develop friendships with men my feelings would get hurt. They would be playing rough or joking around and then would ask why I was 'crying', so I decided to go back to playing with my dolls and the girls," Potts divulged.
Kyleigh Potts has spent more than $75,000 dollars on surgery to emulate her idol Kylie Jenner. (Instagram)
Potts has taken female hormones for close to two years as part of her transition and her dosages are balanced so that she can still function sexually with her male organs.
Unlike other transgenders, Potts is proud of the fact she gets to keep her male genitals and believes that other transitioning people should not feel they have to be defined by antiquated male or female standards.
How Kyleigh looked before her transition. (Instagram)
Even though Potts is breaking the bank to look everything like her idol, she isn't too keen to trade her male genitalia as she believes in living as gender non-conformist and doesn't believe in being put inside a box.
"I have no plans to remove them, there are too many constraints on gender where people believe they have to choose male or female," Potts added.
"Unlike most transgender women, I am proud of the fact that I have male genitalia, I never wish to change them. My doctors tailor my hormones so there is a high-enough testosterone level to allow me to still use my male genitalia during sex," Potts explained.

Kyleigh went under the knife three months ago to turn her hormone-grown A cup breasts into 34DDDs. (Instagram)
With numerous future surgeries planned, she isn't planning to cease anytime soon with her transition process.
"My next plans are to have more facial work done, voice feminization surgery, and buttock augmentation.I want to get butt implants, to pin and reshape my ears, a bullhorn lip lift, a blepharoplasty to help open up my eyes, lower my hairline, and voice change," Potts revealed.

Kyleigh admitted having been bullied as a child for always being different and standing out from the crowd. (Instagram)
Potts is also planning to be a part of the Plastics of Hollywood — an online community for people who want to modify themselves that will be adapted into a TV Show.
Regarded as 'the biggest plastic family in the world' by manager Marcela Iglesias, the community includes Rodrigo Alves, Pixie Fox, Jennifer Pamplona, Vinny Ohh, Justin Jedlica and many more.
Read: A man wanted to be a genderless alien, and this is what he looks like now!
"We have Kim Kardashian through Jennifer Pamplona and now we also have our very own Kylie Jenner," Iglesias was quoted as saying.
Kyleigh plans to get more body modifications to become the complete woman she envisions herself to be. (Instagram)
"I think she will be a great addition to the show, she is similar to Kylie in personality, she even talks like her," Iglesias added further.